Music Director
Musical Director The Bach Choir
Principal Conductor Yale Schola Cantorum
Associate Guest Conductor Bournemouth Symphony Orchestra
Renowned for his fine musicianship, David Hill is widely respected as both a choral and orchestral conductor. His talent has been recognised by his appointments as Musical Director of The Bach Choir, Music Director of Leeds Philharmonic Society, Associate Guest conductor of the Bournemouth Symphony Orchestra, Principal Conductor of Yale Schola Cantorum, and International Chair in Choral Conducting at the Royal Northern College of Music. He was Chief Conductor of the BBC Singers from September 2007 to September 2017 and is a former Music Director of Southern Sinfonia.
Born in Carlisle and educated at Chetham's School of Music, of which he is now a Governor, he was made a Fellow of the Royal College of Organists at the remarkably young age of 17. Having been Organ Scholar at St John's College, Cambridge, David Hill returned to hold the post of Director of Music from 2004-2007. His other appointments have included Master of the Music at Winchester Cathedral, Master of the Music at Westminster Cathedral and Artistic Director of the Philharmonia Chorus. He holds an Honorary Doctorate from the University of Southampton for Services to Music, and in March 2018, he was honoured with the prestigious Royal College of Organists medal, in recognition of distinguished achievement in choral conducting and organ playing.
David Hill has a broad-ranging discography covering repertoire from Thomas Tallis to a number of world premiere recordings. As well as achieving prestigious Grammy and Gramophone Awards, many of his discs have been recommended as Critic's Choices, with his ongoing series of English choral music for Naxos, and discs for Hyperion with the Yale Schola Cantorum receiving particular acclaim.
Hill has appeared with the BBC Symphony and BBC Philharmonic orchestras, London Philharmonic, London Symphony Orchestra, City of London Sinfonia, English Chamber Orchestra, Royal Northern Sinfonia, the BBC National Orchestra of Wales, the Royal Liverpool Philharmonic, the Orchestra and Chorus of Welsh National Opera, the Orchestra and Chorus of Opera North, Ulster Orchestra, Hallé Orchestra, RTÉ National Symphony Orchestra, Orchestre Philharmonique de Strasbourg, Réal Filharmonia de Galicia, Sydney Symphony Orchestra, the Minnesota Orchestra, the Omaha Symphony, and Portland Baroque Orchestras as well as the Netherlands Radio Choir, the National Youth Choir of Australia, and RIAS Chamber Choir, Berlin.
His commitment to new music has led to him premiering works from leading composers including Judith Bingham, Carl Rütti, Francis Pott, Bob Chilcott, Gabriel Jackson, James Macmillan, Philip Moore, Naji Hakim, Sir John Tavener, Philip Wilby and Jonathan Dove. Recent highlights include the world premiere of Gabriel Jackson's The World Imagined with the Philharmonia at Three Choirs Festival.
In January 2019 David Hill was awarded an MBE for services to music.
For more information see David's website…
Chorus Master
Highly versatile UK Conductor, Singer, and Producer, Joseph Judge is Chorus Master of the Leeds Philharmonic Chorus, Artistic Director of the Exon Festival, a Hallé Associate Artist as Director of the Hallé Choral Academy, and Director of Chapel Music at Rossall School.
A graduate of the RNCM, he studied with Clark Rundell and Mark Heron, conducted the Manchester Camerata, received masterclass tuition from renowned conductors such as Sir Mark Elder, David Hill, and Omer Meir Wellber, and assisted the BBC and Royal Liverpool Philharmonic Orchestras. He was awarded the Mortimer Furber prize and has a Masters with Distinction.
Joseph curates a varied and exciting programme of classical music for the Exon Festival each summer, which often features live on BBC Radio. He continues to prepare Leeds Philharmonic Chorus for concerts with professional orchestras such as the Hallé and the Royal Philharmonic Orchestras, also conducting them in performances. As Director of the Hallé Choral Academy, he inspires mixed ability singers to develop their vocal technique and sight-reading abilities through the singing of core repertoire.
As a Countertenor he continues to perform regularly as an oratorio soloist. He was a member of the BBC Daily Service Singers, a Lay Clerk at Manchester Cathedral, and one of the inaugural Fellows of NYCGB, frequently involved with the organisation as Section Leader for NYC and their Training Choirs. He has recorded music for Sony PlayStation, and recently produced the recordings for Northern Lights – an album of contemporary choral works with BBC Choir of Year winners, Voices of Hope.
Vice President
Simon Lindley was born in London in 1948. After an education at Magdalen College School, Oxford, and graduation from the Royal College of Music in London, he began an organ career in 1969, playing at various London churches and recording organ music. He then served as an organ tutor at the Royal School of Church Music and later as Assistant Master of Music at St Albans Cathedral to the legendary Peter Hurford and Director of Music at St Albans School.
Simon was Senior Lecturer in Music at Leeds Polytechnic from 1976 to 1987. In 1988, he was then appointed to the new post of Senior Assistant Music Officer for Leeds City Council's [then] Learning and Leisure Department, working on a kaleidoscopic diversity of productions in the office of the award-winning Leeds International Concert Season – notably weekly Town Hall Lunchtime Recitals, programmes for the Saturday symphony and choral concerts and as Artistic Advisor to the Leeds Summer Heritage Festivals from 1989. He was Leeds City Organist from 1976 to 2017 (named City Organist Emeritus in Summer 2017 and is Organist Emeritus of Leeds Minster, having been organist and Master of the Music Leeds Minster from 1975 until his retirement in 2016.
During the 1970s and 80s he was also Chorus Master to Halifax Choral Society and Leeds Philharmonic Society where he still has an active role as the choirs Vice President. Since 1991 he has served as Secretary of the Church Music Society. From 2009 and 2010 respectively, Dr Lindley has held posts as conductor of Sheffield Bach Society and Doncaster Choral Society. In 2017, he celebrated twenty years as Music Director of Overgate Hospice Choir Halifax. Simon was the Director of St Peter's Singers until 2020, one of England's finest chamber choirs.
In July 2012 an honorary doctorate of the University of Huddersfield was conferred upon Simon Lindley in recognition of his contribution to choral singing locally, nationally and internationally. He also holds a doctorate of Leeds Metropolitan University and honorary fellowships from a number of musical institutions including the Royal School of Church Music.
One of Britain's most popular musicians, Dr Lindley is a Freeman of the City of London and a Liveryman of the Worshipful Company of Musicians. He has just completed two years of service as Grand Organist to the United Grand Lodge of England and is still in post as Provincial Grand Organist to the Masonic Province of Yorkshire, West Riding.
More information about Simon can be found on his personal website and on his Wikipedia site.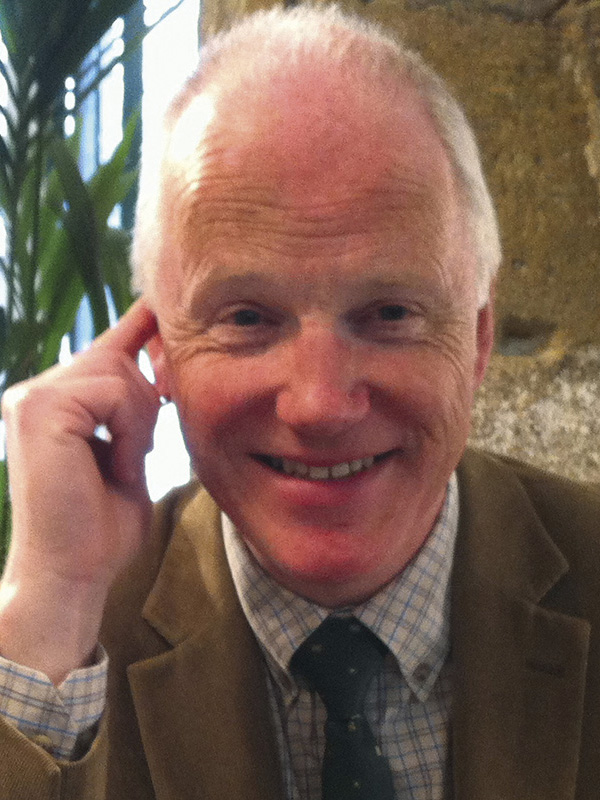 Accompanist
Alan was born in the New Forest town of Fordingbridge and received his musical training at the Royal College of Music, where he studied with Richard Popplewell, then Organist of St Michael's, Cornhill.
Following appointments in Leeds, where he was the Organ Fellow at Leeds Polytechnic and member of its part-time staff [a period when he also enjoyed a happy association with the music at Leeds Parish Church] and at St James's, Muswell Hill in North London, he became organist at Bradford Cathedral in 1986, holding this position with distinction until 2002.
From 1997 to 2015 he served to much acclaim as Conductor of Ilkley and Otley Choral Societies. He now pursues a freelance career as a continuo player and as accompanist to Leeds Philharmonic Society and Overgate Hospice Choir based in Halifax.
Additional to his work with the choirs in Leeds and Halifax, Alan is often to be heard at Sheffield Cathedral and elsewhere each season as organist and keyboard player in concerts by Sheffield Bach Choir.
As an orchestral organist and harpsichordist, he has appeared with the Halle, BBC Philharmonic, RLPO, Royal Northern Sinfonia, Airedale Symphony and the Manchester Camerata. He appears regularly with the Manchester Concert Orchestra specialising in celeste, synthesiser, piano and organ.